10 Tips Organizing Your Home With Stunning Scandinavian Interior Design
July 13th 2022


One of the most popular interior designs in all over the world, Scandinavian interior design has managed to attract millions of interior design enthusiasts who are building houses. Identical to soft pastel colors and light brown tones, white walls, and bold color accents on each side, this Scandinavian interior design is loved by those who add an aesthetic impression without a lot of detail and decoration.
Scandinavia is popular in countries such as Denmark, Norway, Sweden, Finland, and Iceland which are very thick with Scandinavian interior design. Scandinavian interiors inspiration are also inspired by the habits of Scandinavian society that are natural or natural. This interior is also arguably quite environmentally friendly. For those of you who are also interested in applying this interior style to your home, let's take a look at the following tips for arranging a home with Scandinavian interiors!
1. The use of primary colors for the Scandinavian interior
The Scandinavian interior has the main colors that dominate the entire room. These colors are white and light gray or white and light brown. The colors that are applied to the walls or floors will make the room brighter and cleaner.
When choosing furniture, try to choose furniture with a soft color palette so that the Scandinavian interior atmosphere feels more at home.
2. The use of other colors as accents in Scandinavian interiors
In the previous point it has been stated that the main colors used in Scandinavian interiors are white, light gray and light brown. But do not rule out other colors in this interior.
For example, using a soft pink color for a pillowcase, a white carpet with light blue lines, it could also be a light purple color for a blanket on a sofa or a tablecloth with colorful geometric motifs. Using neon colors.
3. Using essential furniture
Maximizing the function of an item does not mean using a lot of goods. The Scandinavian interior design is synonymous with essential furniture, even though the budget used is limited. In a family room there is usually only a sofa, coffee table, and a TV table. In the bedroom there is only a bed, wardrobe, and dressing table.
The furniture also does not have complex shapes and carvings. A house with a Scandinavian interior looks more spacious because there is only furniture that is essential. It would be better if you use multifunctional furniture such as an ottoman that can be used as a chair, table, or footrest.
This Scandinavian interior arrangement is perfect for a small house. In addition, the use of minimalist furniture will make it easier for you to clean the room at a later date.
4. Texture in Scandinavian interior
If a minimalist and modern interior uses a smooth surface texture such as plastic or metal, Scandinavian interior inspiration uses a non-slippery surface texture.
The messy texture of this object can be obtained from the use of a linen bed set. No need to iron, let it appear tangled for a more natural impression. You can also use a blanket to decorate the sofa in the family room.
To throw the blanket, use a cloth made of wool or linen. Wood furniture also doesn't need to be upholstered anymore, let the wood look what it is. This messy texture will make the room look natural and not stiff. Very comfortable!
5. Take advantage of a pile of books
For book lovers who have excessive collections at home, just use it as a special element in the room. The way they are arranged is not neatly arranged on a shelf, but the books which consist of various colorful covers are stacked randomly in several levels.
Take advantage of this pile of books as a table, display mat, and reading lamp base. If you want to be left stacked just like that without any more display objects at the top, that's fine. It's just as beautiful!
6. Put greenery as a Scandinavian interior decoration
The main decoration for Scandinavian House Design is greenery. Why green plants? Because the concept of the Scandinavian interior is natural, back to nature. No need to use large green plants, you can just use green plants in small pots. Then place the green plants on the table or corner of the room. Some of the green plants you can choose from are bonsai, mini cactus, rubber kebo, perforated widow, or the tongue of your in-laws.
If you have chosen the right ornamental plant, you don't need many other decorations. Keep in mind, don't over-put green plants so that your house doesn't look full.
7. The use of wood materials dominates the Scandinavian interior
Scandinavian interiors have always been dominated by wood materials. Wood material usually seen in homes that use exposed ceilings. In addition, this wood material is also used as floor coating. The furniture in the room is also made using wood materials.
This wood material can be painted white or left as the original. Thus, the Scandinavian interior will feel more natural.
8. Important geometric shapes for Scandinavian interiors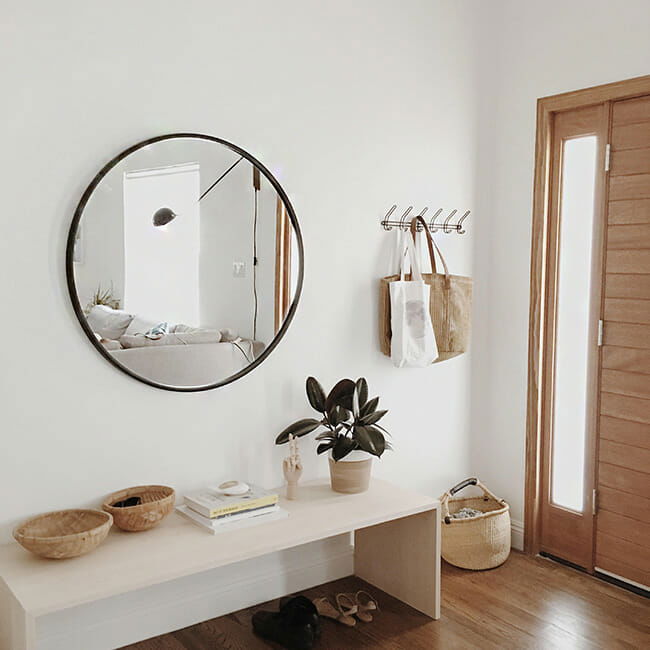 Scandinavian interior design not only has a natural concept, but is also synonymous with geometric shapes. Commonly used geometric shapes are circles, rectangles, and triangles.
This geometric shape is usually applied to home furnishings. For example, a circular bathroom mirror, a rectangular dining table, a small cylindrical chair, a pillowcase with small triangular motifs, and much more.
9. Arranging natural lighting for the Scandinavian interior
The Scandinavian interior is equipped with natural lighting from the sun. This is a form of applying the concept of natural and energy saving. So, that sunlight can freely shine on the whole Scandinavian interior-style house during the day, you need large windows or skylights.
For those of you who have a house in a densely populated area, of course it will be uncomfortable if people passing by can see the inside of the house through large windows. Therefore, take advantage of the sheer curtain or light curtain to cover the window. With this sheer curtain, the privacy of the residents of the house will be maintained and sunlight can still shine on the inside of the house.
10. Designing a kid-friendly Scandinavian interior
Scandinavian interiors, especially those in Sweden, are made with child-friendly concepts because local people care about the child's development. Children are free to play indoors without fear of being hurt by the presence of fragile furniture or sharp angles. Children can also learn to love nature and cleanliness from an early age starting from the habit of living at home.
These are 10 tips Scandinavian interior inspiration. If you are still confused about arranging the interior at home, don't hesitate to ask for professional interior services or visit the best Scandinavian interior inspiration website to get more ideas.